Jewelry
Jewelry Offerings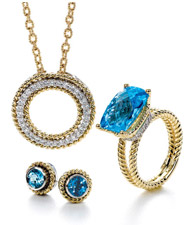 An Extensive Selection of Fine Jewelry - at affordable prices:
While custom work, and antique restoration are a large part of Jeffrey Scott's business, not everyone wants to incur the expense or time of creating a piece of jewelry. Many times, you just want to come in and browse around and pick out a piece of jewelry from a wide and enticing selection. We make a good portion of our inventory ourselves, cutting out the middle man, and allowing us to deliver fine pieces at affordable prices. Jeff also specializes in finding beautiful, unique and well crafted pieces at reasonable prices, often high end, designer and Italian pieces, due to his vast connections with the New York jewelry community and all its offerings, and passes this savings on to the customer. If we purchase an item at closeout, from an estate or just at a very good price, we do not hold the item and charge you what the regular price would be, and make a killing, that is not what we are about. If we buy it right, so do you. Everyone loves a good buy, and getting good value for their dollar. Of course, even if the price is right, Jeff and Irene will not purchase an item for the store if the quality of stones and manufacture is not there.
Diamonds and Settings
Diamond prices that can't be beaten and hundreds of settings to choose from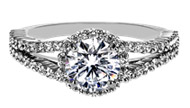 At Jeffrey Scott Jewelers we offer a full selection of EGL and GIA certified diamonds and wedding bands, both with stones and without. And if we don't have the diamond you are looking for, we can tap into our vast network of diamond houses with large inventories and bring in a stone for you. And our policy is, no matter the size of the diamond you are looking for, if we bring in a stone for you that we do not stock, we will work $500 over our invoice. We will show you the invoice to prove our cost. No games. We can only accept payment by check or cash for this promotion as we are working on a very small profit margin, bringing you diamonds at wholesale prices. Credit card customers may still participate in the promotion but just may be subject to additional user fees over our cost. Ask for details. We do this as a courtesy to our customers. We do not want to sell you a diamond ring and never see you again - we want our customers to come back again and again - for birthdays, anniversaries. for all of life's events, we want you to become a part of the Jeffrey Scott family. No one does this - no one will beat our prices on diamond centers and bridal jewelry. And we have one of largest selection of bridal mountings in the area - over 200 to choose from in stock. And of course, if we don't have what you envision, we can create it for you.
Our Inventory
Wide variety to choose from with something for everyone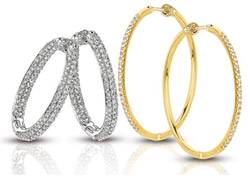 At Jeffrey Scott Fine Jewelry we have a full array of precious colored stones and diamond jewelry - earrings, rings, bracelets and necklaces. Likewise we are pearl specialists - offering a full variety of akoya Japanese pearls, freshwater pearls, and Tahitian South Sea pearls as well. At Jeffrey Scott we provide a wide selection of semi precious colored stone jewelry in gold and silver, as well as an extensive selection of gold jewelry offerings, and silver jewelry as well - earrings, rings, bracelets and necklaces. You name it. We also offer attractive 14k gold and silver selections for children. And if you have a medical condition and you have to wear a medic alert bracelet, we sell medic alert jewelry with engraving services included. For men, we carry a selection of gent's jewelry as well - in gold, silver, as well as the latest metals - titanium, cobalt, ceramic, stainless steel. And if you are in the market for a watch, we are proud to stock over one hundred and fifty models of Citizen watches, as well as pocket watches, and the women's line of Moog fashion watches from Paris. We also frequently offer previously owned higher end Swiss watches at a significant savings.
And if we don't have what you need, we can make it, or order it - and in most cases if ordered, can get it in one day for you. We are a full service jewelry store, capable of meeting most of your needs. We will try to find you something just right for yourself or that special someone, the best value that fits nicely into your budget.
Click here to view a list of the Collections and Brand Names that we offer
.
Services Included with your Jewelry Purchase
No little extras
If you purchase a ring from us, and need it sized, there is no charge for this service after purchase for the first sizing. If you want your jewelry engraved and you purchased it from us, there is no charge. If you purchased an item of white gold and need it plated white after wearing if for a while, there is no charge. If you purchase an item from us and need an insurance appraisal, there is no charge for the appraisal or any updates for life. If you get engaged or have bought a special piece for a significant occasion for that special someone, and you want them to keep it clean, your first bottle of jewelry cleaner is on us. If you would like a custom engraved plate for an item you bought from us for the box, there is no additional charge. At Jeffrey Scott, there are no little extras, we do not nickel and dime our customers.
Our Lifetime Warranty
We are so confident in the quality of manufacture of our products, that we give you a lifetime warranty for normal wear and tear. If you purchase an item from us and have a problem, whether it is now or years from now, - for example, you break a prong, have a crack in your ring, break a chain, lose a small side stone, whether pearl, diamond or colored stone, we replace it for free forever. We just ask that you come in once a year or so at least, so we can check out the piece to be sure that all is well, just like an annual tune up for your car! Of course, we ask customers to insure the entire piece for loss or theft, as well as any center stones or large side stones. If you purchase a watch from us and it needs warranty repair, we send it back for you to the manufacturer and handle the whole process.